Data classification software that cures your
data-related headaches
Does your organization's ever-growing data give you a headache? Netwrix Data Classification solves your data-related challenges, such as mitigating the risk of data breaches, realizing the full value of your content, increasing employee productivity and passing compliance audits with less effort.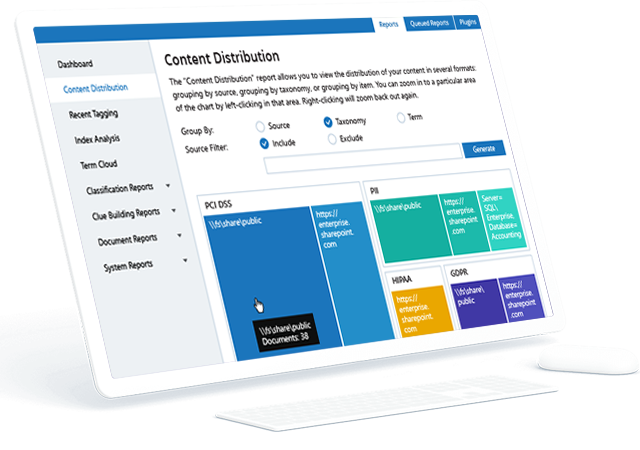 Copy of Identify sensitive information and reduce its exposure
Find sensitive content, such as financial data, medical records and other PII, both on premises and in the cloud. Automatically quarantine critical or sensitive data stored in unsecure locations or accessible by large groups of users to minimize its exposure until you can make a thoughtful remediation decision.
Copy of Derive value from your data to improve decision-making and increase employee productivity
Eliminate clutter and put your data into a logical order to enable knowledge workers to find the data they need for more effective collaboration and knowledge sharing. By analyzing only truly valuable and reliable data, they'll be able to make better, more informed business decisions.
Copy of Respond to legal requests without putting your business on hold
Minimize business disruptions during litigation by arming your team with the Netwrix data classification tool. Ensure that they can quickly find the data that must be put on hold, and protect your reputation by keeping irrelevant data, such as old versions of contracts, out of the process.
Copy of Get rid of unneeded data to reduce storage costs
Stop storing old data "just in case it may be needed someday". With Netwrix data classification software, you can discover and clean up redundant, obsolete or trivial information across your IT environment to slash expenses on data storage.
Copy of Meet privacy and compliance requirements with less effort and expense
Identify data regulated by GDPR, HIPAA and PCI DSS across your IT environment with automated data discovery, and enforce retention policies based on data type. Satisfy requests from data subjects by finding personal information related to a particular individual in minutes, not days.