Data classification software that cures your
data-related headaches
Does your organization's ever-growing data give you a headache? Netwrix Data Classification solves your data-related challenges, such as mitigating the risk of data breaches, realizing the full value of your content, increasing employee productivity and passing compliance audits with less effort.
Understand your data across your entire environment
Want to gain complete visibility into what content you have, whether it's structured or unstructured data, on premises or in the cloud? We've got your back.

Classify data accurately and automate your workflows
Get accurate data classification results
Gain a better understanding of data patterns specific to your organization. With compound term processing and statistical analysis, you'll get more relevant results than by relying on keywords and semantic analysis.
Categorize data in a few clicks
Kick off your discovery in minutes with out-of-the-box rules that identify data protected by GDPR, PCI DSS, HIPAA and other regulations. Create custom rules to find other data that matters to your organization.
Streamline taxonomy management
Create and modify taxonomies in a user-friendly interface. Eliminate the need to purchase professional services whenever you need to develop and maintain taxonomies.
Discover specific pieces of content
Find specific data as part of litigation process and locate all personal data related to an individual to comply with data subject access requests without downtime or having to create new rules.
Automate data-related routines
Embed classification information right into the files to improve the accuracy of your DLP or IRM products and streamline data management tasks, such as retaining, archiving or migrating only specific types of data.
Automatically reduce exposure
Protect sensitive files by automatically moving them to a safe area, removing permissions from global access groups and redacting confidential content from documents.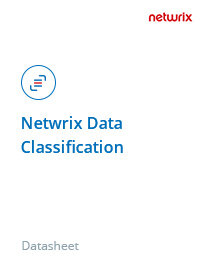 Learn more about how small businesses and enterprises alike can resolve their data-related problems with Netwrix.
See how Netwrix helps organizations from different industries overcome their data security and compliance challenges
By finding data related to a particular customer in minutes, Horizon Leisure Centers satisfies data subject access requests and complies with the GDPR, saving £80,000 annually.Read the story
Day Pitney secures proprietary and customer information, including cardholder data and personal health records, by reducing its attack surface.Read the Story
How is Netwrix Data Classification licensed?
Netwrix Data Classification is licensed by its applications, based on either a subscription-based or perpetual licensing model. Regardless of which licensing model you choose, most applications are licensed per employee.
Do you use agents to collect data?
No. Netwrix Data Classification operates in agentless mode, so it does not interfere with your data storage system. All index and classification information is collected, analyzed, stored and updated on a separate server.
How easy is the deployment and configuration process? How quickly will I start getting value?
It takes only a couple of hours to deploy Netwrix Data Classification. The time required for the initial classification depends on your data volume, connection speed, server performance and other factors. After that, new data will be indexed incrementally, which is faster.

The solution includes a wide set of predefined taxonomies that cover PII (GDPR), PHI (HIPAA), payment card data (PCI DSS), financial records and other types of protected information, so you can quickly find and secure your sensitive and regulated data. Netwrix also provides free professional consulting services to help you implement and fine-tune the technology to reduce data storage costs, improve user productivity and decision-making.
Can Netwrix Data Classification be integrated with DLP or IRM solutions?
Yes. Netwrix embeds classification information right into the file, increasing the accuracy of data loss prevention (DLP) or information rights management (IRM) tools and optimizing your data security efforts.
How do the files get classified?
Netwrix Data Classification doesn't simply match character strings and rely on keywords and regular expressions. It also uses compound term processing and statistical analysis, which work in any language or vocabulary, regardless of grammatical style. The classification is performed by analyzing file content using rules defined in the taxonomies.
Can SQL Server Express Edition be used in Netwrix Data Classification deployments?
SQL Server Standard or Enterprise edition is recommended for all Netwrix Data Classification deployments. Visit this page to learn more about software requirements.